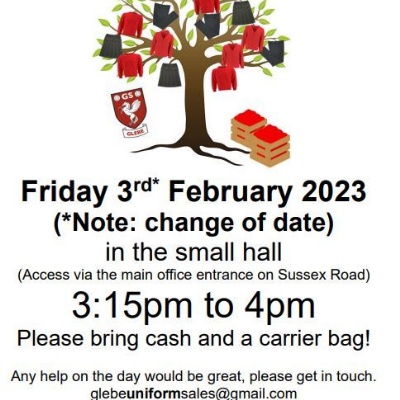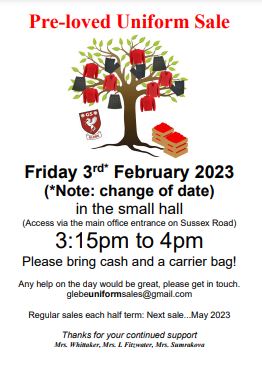 'New' Uniform - Angels
'Angels Uniforms', who supply Glebe sweatshirts, cardigans, polo shirts, and fleeces, are resuming their school delivery service. Uniform can be ordered online at www.angelsuniforms.co.uk. If you place an order on their website by Wednesday and select 'Collect from Store', Angels will aim to deliver your order to school free of charge by Friday. We will then deliver it to your child's class.
You can visit Angels who are located at 317 Rayners Lane, Pinner, HA5 5EH if you wish to buy the items directly and try the items before buying.
Pre-Loved Uniform Sale
Don't forget: Our next sale is Friday 3rd February! If you are unable to make it here in person, you can still order via email glebeuniformsales@gmail.com with the items and sizes you need. All of our efforts so far have managed to raise lots of money, which is going directly back into the school.
Year 6 – £200 – are putting theirs towards their end of year residential trip and their activity week
Thank you so much for your donations in our box in the school foyer. Please make sure you wash items and remove name labels before donating. Thank you.
In the current financial climate if you do find yourself struggling with the cost of uniform we are here to help. Please speak to any member of Glebe staff.
Thank you for your continued support.