Glebe is the only primary school in the London Borough of Hillingdon with a Specialist Resourced Provision for hearing-impaired children (SRP).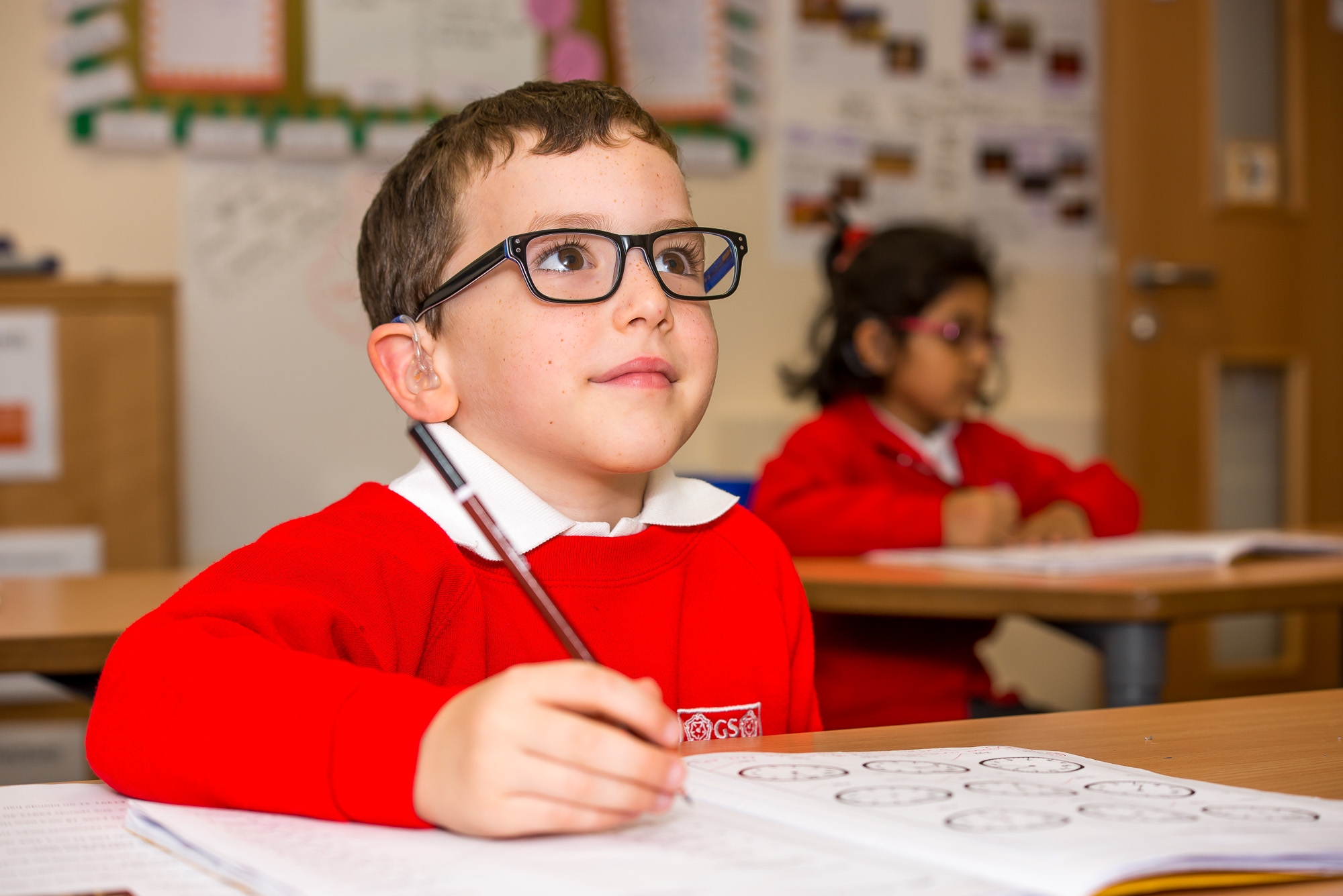 The SRP accommodates a small number of hearing impaired children, who benefit from an oral/aural education in a mainstream school, which has specialist staff and equipment to support their needs.
We all work hard and learn a lot being part of the SRP. Some of us go to the unit for literacy and maths lessons while some of us stay in class with an adult to support us.

In the SRP we learn to listen which helps us in all lessons. We learn to understand and use new words all the time to help us talk and it also helps with reading and writing. Sometimes we use signs to help us with new words or to help us understand.

We get the help we need to do our best.

(Imtinan, Omar, Ryan and Thusiharan)
Being part of the SRP makes me feel...
"Confident" (Imtinan, Yr 5)
"Happy at school" (Omar, Yr 5)
"Proud" (Thusiharan, Yr 5)
"Excited to come to school" (Ryan, Yr 4)
Our pupils benefit from experienced mainstream classroom teachers. Our pupils also benefit from classrooms treated with soundfield systems, enabling the teacher's voice to be heard equally well from wherever they sit in the room.
In addition the SRP staff consists of:
Teachers of the Deaf
Experienced Nursery Nurses
Visiting Speech and Language Therapist
Visiting Educational Psychologist
Liaison and support from Cochlear Implant Teams of leading children's hospitals
SRP Resources:
Two acoustically treated well-resourced classrooms
Speech room
The provision of a wide range of technical aids.
The S.R.P. for hearing impaired pupils was opened in September 1980. The two teaching rooms and speech therapy room are acoustically treated and carpeted to give a quiet place for the children to work. Teachers of the Deaf and Nursery Nurses are on hand to support the hearing impaired pupils.
We are an aural / oral provision and we aim to provide specialist teaching, support and resources for hearing impaired pupils from age 4 to 11, additional to that available in the mainstream school. Our objective is to enable the pupils to access the curriculum, to communicate effectively and to realise their potential and achieve maximum independence.
All the children are on the roll of their mainstream class and we aim for them to be taught in class alongside their hearing peers, with support if necessary. In addition the children might spend some time each day in the S.R.P. to work individually or as part of a small group on speech and language or literacy skills. Speech and Language Therapists also visit the school to work weekly with the children. All S.R.P. staff work closely with the mainstream teachers.