Nursery staff
Main Nursery Teacher is Mrs Pione, Mrs Message is the Nursery Nurse in charge of the all-day children in the mornings). The nursery support staff are: Mrs Berriman, Mrs Newing, Mrs Fitzwater and Mrs Begum. Each teacher receives half a day PPA time to allow for them to plan, prepare and assess. Mrs Pione has PPA on a Thurdsay afternoon and this is covered by Mrs Message. Mrs Message has PPA on a Friday afternoon. The member of staff in charge during the session is highlighted yellow.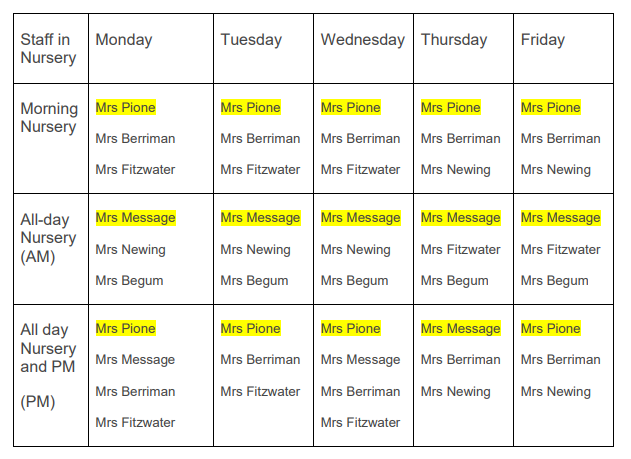 Curriculum Maps
In Nursery, we cover the 7 areas of learning across a variety of topics. The 7 areas of learning are:
personal, social and emotional development.
communication and language.
physical development.
literacy.
mathematics.
understanding the world.
expressive arts and design.
Autumn term
During the first half-term we will cover:
During the second half-term we cover:
Summer Term Curriculum Maps
Vocabulary